New Scottish Borders cashmere brand rises from Covid ashes
Sinclair Duncan Textiles, the established Galashiels cashmere accessory manufacturer, has launched a new, premium cashmere brand Kinalba, with the help of South of Scotland Enterprise.
The launch follows support from South of Scotland Enterprise in late 2020, with a £100,000 grant being provided to assist Sinclair Duncan's development and growth as it looked to target new export markets.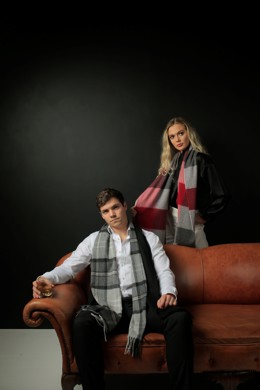 Focused on the domestic market, USA and Japan, the Kinalba collection - which includes scarves, stoles and blankets - has been designed by renowned textile designer Alistair McDade, who joined the Sinclair Duncan team in January 2020.
About Sinclair Duncan
Established in 2013 by Sinclair and Debbie Paterson and based in Galashiels, Sinclair Duncan aims to support independent manufacturers and reinforce the Scottish Borders' strong reputation for high quality textile manufacturing.
Sinclair Duncan also look to support other local firms and jobs, in a variety of other sectors, from marketing, videography and photography to web design.
Sinclair Duncan also aim to inspire the next generation of home-grown talent through its collaboration with Heriot-Watt School of Textiles & Design in Galashiels, in an effort to support the future of the industry and enable it to thrive.
Sinclair Paterson, Founder/CEO, Sinclair Duncan Textiles Ltd
"The Scottish Borders has a proud history and reputation for producing some of the world's most luxurious fabrics. Kinalba – which blends heritage, expertise, traditional skills and design innovation – represents the future of the industry, selling a modern Scotland to an international market. 
"Not only that, but Kinalba places sustainability at its heart, both in terms of recognising and addressing the environmental challenges we face, but also to preserve the legacy of the Scottish Borders textile industry.
"We are proud of our history and heritage, but it's important to focus on the future of the industry, working together to help it grow and prosper and to sustain an industry that has traditionally been – and we hope will be again – at the heart of the Scottish Borders economy."